Making it easy for your patrons to discover the thousands of titles you have in your Comics Plus Subscription has never been easier! LibraryPass provides customers with FREE, INSTANT and 24/7 access to Full and Updated MARC records. Read below for more information.

---
What is the Process for Obtaining MARC Records?

Watch the video below or follow the step-by-step instructions for Pulling your MARC records!

Step-By-Step instructions
Click "Marc Records" in the top navigation bar

Click "Request Report" and choose either "Full" or "Update"

The records should only take a few minutes to pull - after 5 minutes refresh your screen and a URL will populate.

Click on the URL to download your MARC records!
---
Do MARC Records Cost Money?

No! Comics Plus MARC records are FREE to subscribing Customers
---
What is included in the MARC Records?

Your MARC records will be specific to your library. They will include only the content you subscribe to - i.e. any disabled titles will not appear, as well as any age content not in your collection.
In the records you will find:
Link to resource (Subdomain specific - meaning specific to YOUR library!) (856,40$u)
Cover Image (URL) (856,40$u)
---
Can I get Updated Marc Records?
Yes! In the User Admin Portal you can pull either "Full" or "Updated" records
---
What is the difference between "Full" and "Updated" MARC records
Full MARC Records
Full Marc Records will include all records and metadata in your Comics Plus Collection
The first time you integrate Comics Plus MARC records into your catalog, you will want to be sure to pull "Full" Records.
Updated MARC Records
Updated MARC Records will contain any updates, additions and removals made since your last MARC record pull.
If you have already pulled and integrated your Full MARC records, you only need to use your Updated MARC records moving forward.
---
What do MARC Records look like once integrated?

This will vary depending on your ILS and user interface, below you can see an example of an integrated MARC record!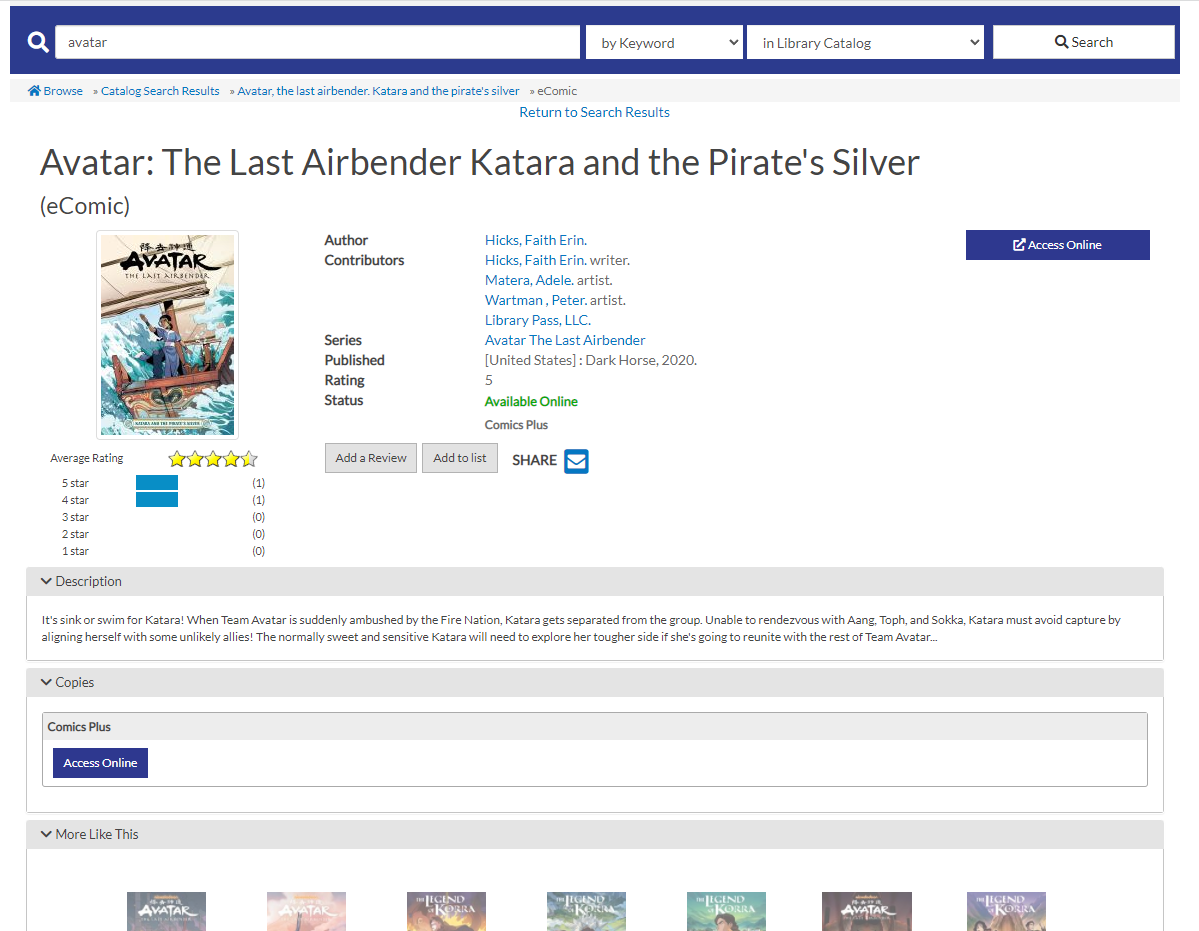 ---
What do the MARC Records Statues mean?

Pending = in the que waiting to be processed

Processing = In process will be completed shortly!

Completed = your MARC records are complete!