Using Graphic Novels as Mentor Texts for Personal Narratives
Personal narrative writing has long been a staple in the middle school English/Language Arts curriculum. What was once, "What did you do over summer break?" has now evolved into more sophisticated and meaningful writing prompts asked of our students at the beginning of each school year. The more we read, the better writers we become — so students need access to worthwhile mentor texts to help further their writing skills.
Comics Plus has a wide variety of multicultural graphic memoirs and first-person narratives available to students to aid in their knowledge of narrative works. By reading these stories, not only will students see excellent examples of the technical aspects of narrative writing — including structure, grammar, and vocabulary — but they will also get to read about the lives of other people. Sometimes students will be able to make connections to the authors of the stories because they see themselves in the graphic novels; other times, they will read about people who have led different lives, thus building empathy for others and cultural awareness.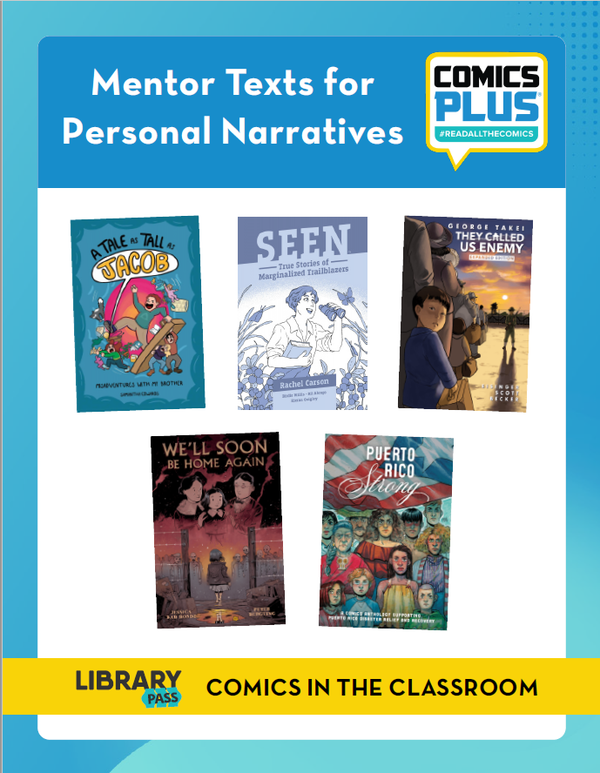 Mentor Texts for Personal Narratives
[
Download Resource
]
Related Articles

Teaching STEM/STEAM with Graphic Novels

Recorded April 29, 2021 Our panel of experienced educators, librarians, and publishers—Dr. Shari Brady, Tracy Edmunds, Jim Ottaviani, C.A. Preece—shared insights on their discovery process and results from using graphic novels to teach STEAM ...

Why Comics, Graphic Novels and Manga for Young Readers? How to Best Use Your Comics Plus Collection for Young Readers

Graphic novels offer an incredible new opportunity to engage readers of all abilities by providing a visual foundation that helps accelerate comprehension of the author's ideas. Graphic Novels also provide a new perspective into lives, stories, ...

Developing Empathy with Comics & Graphic Novels

Recorded October 27, 2020 This free webinar features Jerry Craft, Tracy Edmunds, Grace Ellis, Talia Hurwitz, Rossie Stone, and Anthony Zuiker discussing their unique perspectives on the process of developing empathy with comic books & graphic novels. ...

Graphic Novels in the Classroom: Building Librarian - Teacher Partnerships

Recorded March 25, 2021 Our panel of experienced educators—Shannon Live, Kaitlyn Roach, Dr. John Weaver—shared their insights on how they work with graphic novels in the classroom, how they demonstrate their impact on learning, and how they partner ...

Graphic Novel Collection Development for School Libraries

Graphic Novel Collection Development for School Libraries Recorded January 27, 2021 K.C. Boyd, Joy Harvey, Angie Mahalik, and Cait Zaksheske discuss how to successfully integrate comics, graphic novels, and manga into your collection development ...